---
650US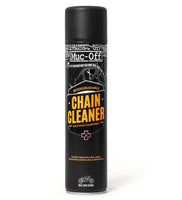 Muc-Off Biodegradable Motorcycle Chain Cleaner has been specifically formulated to quickly and safely remove dirt, lube and heavy chain grime using advanced solvents. Its unique formula breaks down oil and grease to leave the entire chain sparkling clean and contaminant free. Now with Watermelon fragrance!
-Rapid Grease shedding formula for the drivetrain and swingarm.
-Water Soluble formulation.
-Suitable for Standard O,X and Z chains.
-Safe on rubber, metal and carbon fiber components.
-Biodegradable
-No CFC's
Our unique formula is water soluble and contains no harmful acids, CFCs or solvents and is biodegradable.
Note: Contents under pressure; must be sent via surface shipping only. Sorry, no air or international shipping.
Muc-Off Chain Cleaner 500ml
Produced by Muc-Off of UK