---
18610013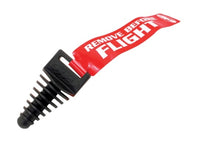 The FMF muffler plug is a great way to keep dirt and debris out of your exhaust while in storage or traveling. Use when washing to keep water out of your exhaust system.
-Protect your exhaust with this FMF Washplug , and remember, remove before flight!
-4-Stroke wash plug diameter is .95"-2.0"
Note: Wash plug cannot be used with some spark arrestor/quiet inserts. Please remove inserts before using wash plug.
FMF 4-stroke Wash Plug
Produced by FMF of USA