---
5053-002-000-000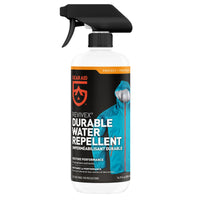 Renew the water repellency of your outerwear. This is a wash/spray/dry application that renews the DWR (Durable Water Resistance) that comes standard with all of your KLIM® outerwear. If the water isn't beading on your jacket/bib, it's time for some Revivex!
Just spray this water-based formula on wet or dry garments, dry, and enjoy waterproof pants, jackets and rain gear again.
No matter what the weather does, you'll stay drier—and stay out longer—with ReviveX!
16.9 oz.
ReviveX Durable Waterproofing Spray
Produced by GearAid of USA