---
RMS-325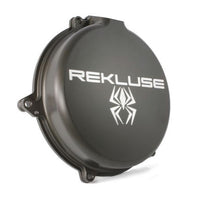 WHAT IT DOES
Rekluse clutch covers are specifically engineered to provide unparalleled durability and performance in a single, stylish component. Our covers are ready to ride whenever you are and they stand up against rocks, logs, boots, and whatever else you may encounter in your adventures.
FEATURES AND BENEFITS
-Billet aluminum provides incredible strength without adding weight
-Double hard anodized for enhanced durability and wear resistance
-Greater depth than stock covers, which allows for increased oil capacity
-Specifically designed to complement the performance of your Rekluse or OEM clutch
Fits 2018-2019 4-stroke RR/RR-S.
Rekluse Beta 4-stroke (18-19) Clutch Cover
Produced by Rekluse of USA