---
021679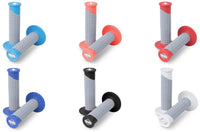 Using the latest in grip technology and molding techniques, ProTaper's Clamp-On Grip System offers the comfort and control of traditional grips with the added advantage of quick, effortless installation. The design eliminates the need for glue and safety wire, yet ensures durable, slip-free performance. ProTaper's exclusive, super-slim clutch-side Windowed Core not only minimizes the outer grip diameter, but also delivers critical relief areas for the palm and fingertips. The result is increased impact and vibration damping over competing solid-core designs, leading to significantly improved rider comfort and control. The grip surface utilizes an extra-supple, tacky compound that is seamlessly molded to the inner core. This provides maximum comfort and traction and alleviates blistering. A firmer compound is used in the flange and endcap areas to resist crash damage and reduce wear.
-Easy on, easy off installation. No messy glue or safety wire needed
-Slim outer diameter to prevent arm pump and hand fatigue
-Exclusive 'windowed' design allows for more cushion in the critical palm and finger areas eliminating the harsh feel of competing grip designs
-Dual Compound technology for comfort and grip durability
-CNC machined clamp with 4mm allen bolt to eliminate slip
Fits 2013-on 2-strokes. Ends will need to be cut/bored for full-wrap hand guards.
ProTaper Clamp-On Pillow-Top Grips
Produced by ProTaper of USA