---
993862 or 64-69096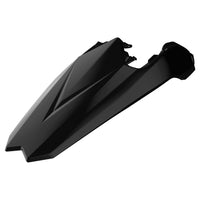 Sale
Polisport's rear fenders are developed with our exclusive technologies - DGP (durable gloss propylene) - for this reason our parts are more durable and have a perfect combination of resistance and flexibility. On top of that, the Polisport's replica plastics have a glossy finish and colors that perfectly match the stock parts and will make your dirt bike look great!
Why Polisport Rear Fenders are the best choice for your Dirt Bike?
-Injection-molded, quality plastic components with a perfect OEM fit
-Exact replica of stock OEM plastic components but stronger
-Inexpensive alternative to OEM replacement parts
-Stock color match with less fade
-Glossy and flexible
-Impact and abrasion resistant
-Less prone to scratching or marking
-Packaged in a printed plastic bag
Fits all 2018-2019 RR models. Dimensional weight listed.
Polisport Beta RR (18-19) Rear Fender Black
Produced by Polisport of Portugal