---
347US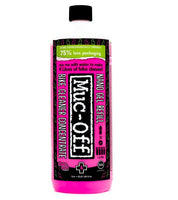 Using our state-of-the-art Nano Tech formula, Muc-Off Nano Tech Motorcycle Cleaner cuts through grime quicker than you can say "OMG!" regardless of the weather or riding conditions. This classic pink bike cleaner has incredible cleaning power because it contains our revolutionary Nano Technology that breaks down dirt and grime on microscopic levels, while also caring for your motorbike's delicate finish. Because we use the finest ingredients and surfactants, our Muc-Off formula is a closely guarded trade secret.
It's the most effective cleaner out there, and it doesn't even need any of those nasty, dangerous acids or chemicals. In fact, our perfectly pink cleaner is biodegradable, free from acids, CFC's and solvents, and it's alkaline based so you can clean away with a guilt-free conscience. It's safe on all surfaces, and it's even disc brake rotor and pad friendly.
-Safe on all parts and surfaces including carbon fiber
-Will not harm seals, cables, brake pads or rotors
-Effective on all types of motorcycle
-Safe on anodized metal
-Alkaline based and free from CFCs, solvents or acids
-Nano Tech Formula cleans on a molecular level
-Biodegradable
Muc-Off Nano Tech penetrates deep into dirt, oil & grime and gently breaks it down on a molecular level.
Our unique formula contains no harmful acids, and is biodegradable.
Muc-Off Nano Tech Biodegradable Motorcycle Cleaner 1 liter Refill
Produced by Muc-Off of UK