---
637US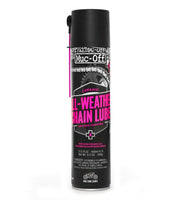 Introducing our new high performance, state of the art motorcycle chain lubricant – Ceramic Endurance Chain Lube.
After years of research and development we identified that there were some big differences with what riders want and need from a chain lubricant. After all, Racing motorcycles, touring motorcycles and off road machines are all going to have different chain lube requirements. Muc-Off Ceramic Chain Lube is the first of its kind and is set to revolutionize chain efficiency and performance for all motorcycles covering longer distances and is ideal for tourers or commuters as you can go far longer between application intervals. Our unique water repellent, ceramic, non-fling formula penetrates deep into the chain link. This creates a durable protective coating which will guard your chain against corrosion and metal to metal wear, in all weather conditions. An added benefit to our unique formula is that it includes a UV Dye, which means you can accurately see the lubricants specific coverage when using a UV light. This also allows you to wipe away any overspray that may have otherwise gone undetected. Endurance Chain Lube means longer intervals between applications, with greater protection for your chain!
-Suitable for standard, O, X and Z-Ring chains.
-For long distance all weather on/off-road riding.
-High performance synthetic formulation for maximum protection.
-Ceramic additives increase component life and maximise horsepower.
-Contains UV over spray dye
Note: Contents under pressure; must be sent via surface shipping only. Sorry, no air or international shipping.
Muc-Off All-Weather/Endurance Chain Lube
Produced by Muc-Off of UK