---
MM-BT-SQSW-20-AC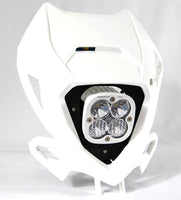 The MotoMinded Squadron kits are setup for easy plug-n-play installation and offer 1800 lumens of light for the darkest rides!
Features:
-Quick "Plug and Ride" install. Attaches at the same points as your stock light. Includes wiring adapter. Simply plug in the harness and use your OEM switches. ON off Mode ONLY.
-Polycarbonate/PBT frame, white ABS plastic bezel = lightweight and rugged.
-Highly adjustable tilt to allow for proper aim.
-Off-road / racing use only.
-LED ships with a combo pattern lens.
Fits 2020-on carbureted machines. Includes AC adapter and wired for a plug and ride kit. No mods needed. Headlight trim ring may be black or white as pictured. Light will "flicker" at low RPM, this is normal. Video shows early version, Pro light pictured.
MotoMinded Beta (20-) LED Squadron Sport Headlight Kit (Carb)
Produced by MotoMinded and Baja Designs of USA