---
RAR.006.CBR19.K & RAL.005.CBR19.K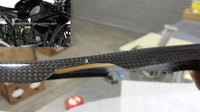 Sale
Fits 2008-2011 CBR1000RR--Since 1990 Ilmberger has been producing high-quality carbon fiber products, equaling OEM quality and sold through OEM accessory catalogs. Used by top international racers, Ilmberger products are the highest quality carbon fiber we have found, from the material itself, to the clear coat, to the way Ilmberger stands behind each product. We're very proud to bring the full line of Ilmberger products to the U.S. Whether you're going racing, want to lose a few ounces, or are improving the appearance of your machine, Ilmberger carbon fiber is the best you can buy!
Ilmberger carbon fiber is TUV/ABE approved. What does a European standard mean to us here in the U.S.? It means that Ilmberger carbon fiber is the highest quality, and fits the best. Ilmberger is also the only carbon fiber manufacturer to use Kunststoffbeschichtet, or plastic powder coating, on their parts. This finish is much more resistant to scratching than standard clear-coat finishes, blocks UV rays that can damage your carbon fiber over time, is a better base for painting, and improves the appearance of each part. Our parts are produced using autoclaves and state-of-the-art manufacturing techniques that are also used in Formula 1.
Original equipment on some top of the line MV Agusta, Aprilia, and Ducati machines. Beware of imitations, there is only one Ilmberger and we are your source for the real thing!
Fits 2008-2009 CBR1000RR
Dimensional weight listed, small crack in upper edge of one side
Ilmberger Honda CF Frame Cover Set (Blem)
Produced by Ilmberger of Germany, imported and distributed exclusively by Sierra Motosupply