---
AB-80120-B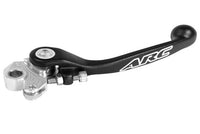 All ARC Levers famously fold forward when you go down (and every off roader does!) so they don't bend or break in a fall.
ARC Flex lever, folding design to avoid damage.
Fits Evo Factory Edition models.
Looking for anything at all for your Beta that isn't listed? Please write tom@sierrabmw.com and I'll get it added for you!
Beta ARC Trial Factory Edition Folding Brake Lever
Produced by ARC for Beta