---
AB-80159-B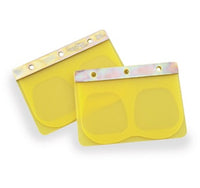 Boyesen's patented dual-stage design incorporates a specially shaped top reed and a ported bottom reed. The top reed is lightweight and resilient for crisp throttle response at partial throttle or low RPMs. The stiffer, bottom reed is ported to provide maximum flow and horsepower at higher RPMs. More valves equals more power by creating:
More Air Flow. The dual-stage design allows you to replace your stock reed stop with a Rev-Plate which permits the reeds to open freely and function efficiently.
More Air Velocity. The multi-port feature of the bottom reed creates more channels for the charge, delivering increased velocity to the intake ports.
More Overall Power. Dual-stage reeds work in unison to perform efficiently throughout the entire powerband. The difference in stiffness between the top reed and the bottom reed allow the reeds to respond quickly and accurately to changes in engine pressure. This translates into quicker acceleration, crisper throttle response and increased horsepower throughout the powerband.
Fits Techno-Evo 125-300 2T's
Beta Trial 2-stroke Boyesen Reeds
Beta Original Parts by Boyesen