---
634-5102R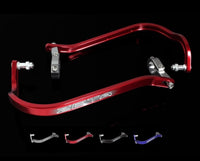 ARMOR HAND GUARDS - Bend
SPECIFICATIONS:
-Made of A7009-T6 aluminum for tapered handlebars.
-Strong, light weight aluminum bar design, for everyone's riding style.
-Drop down design provides better control.
-Holes are pre-drilled for mounting of protector shields.
-Available in 4 hard anodized colors: Black, Titanium-color, Red and Blue.
To add deflectors please see Zeta Armor Handguard XC Deflectors. Beta 4-stroke Clutch Line recommended for easier fitment on machines with straight brake line.
Zeta Armor Handguards
Produced by DRC Zeta of Japan