---
972258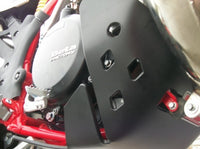 -Indestructible plastic skid plate for rough MX, offroad, and enduro riders that need maximum racing protection
-Patent pending design is precision formed (not molded) with no welds to crack or break
-35% lighter than alloy plates
-Covers frame rails, water pump, and ignition cover
-Reduces noise and vibration compared to alloy plates
-Tucks in tight and flat and protects all the valuable engine-frame componets. -Custom TMD Formula is quieter, absorbs impacts, glides over sharp obstacles. -Available in black and Red with all the hardware which is replaceable. -Tested and proven by TMD Factory support rider and Endurocross champ Cody Webb.
Fits 2013-2017 300RR and 250RR, requires forward pipe mount removal for install (material "above" pipe mount supports upper section of skid plate for more strength), dimensional weight listed.
TM Designworks Beta 300RR|250RR (13-17) Plastic Skid Plate
Produced by TM Designworks of USA