---
22-302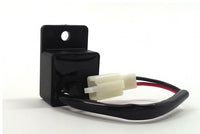 SicAss Racing's Smart Flasher works with ALL types of turn signals, including LED.
-Includes adapter for automotive style flasher connections
-Direct plug in installation on 2015-17 Beta's
-No indicator rewiring needed
-No extra switches needed
-No battery draw
On 2015 and earlier RR models, the flasher connects to the "L-shaped" connector in the airbox with yellow/red and gray/black wires. Red wire from flasher connects to gray/black (up to 2015) or red (2016-on) wire on machine. On the XTrainer and 2016-on RRs, the connector is behind the headlight with the same color combination. On Race Edition models, the connector is under the right side panel. If this doesn't work, try reversing the wires.
SicAss Racing Beta Smart Flasher
Produced by SicAss Racing