---
RMS-323 or 09401789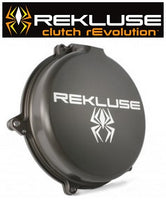 Constructed of billet aluminum for increased strength and durability, the clutch cover is deeper than stock to allowing a greater volume of oil in the engine. The cover also allows you to use a stock gasket with the z-Start Pro Clutch instead of the provided thicker gasket.
-Billet aluminum strength for increased durability
-Deeper than stock, allowing for increased oil capacity
-Allows use of stock gasket with your Rekluse Clutch
-Designed to complement your Rekluse Clutch
Fits all 4-stroke RR/RS from 2010-2017 except 350RR Factory.
Rekluse Beta 4-stroke (10-17) Clutch Cover
Produced by Rekluse of USA