---
19-73013F or similar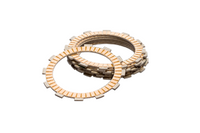 ProX clutch friction are manufactured by the leading OEM factories, mainly in Japan. All friction plates are made to exact OEM specifications and offer maximum performance, smooth clutch operation and durability.
ProX clutch plates sets contain a complete pack of friction plates for the application you need and are an easy and best replacement for your clutch.
All plates can be used in combination with other ProX clutch components like our hard-anodised clutch baskets, Inner hubs, pressure plates and our heavy-duty clutch spring kits.
ProX Friction Plate Set Features:
-Manufactured by the leading OEM factories.
-Made to exact OEM specifications to offer maximum performance and durability.
-Complete friction sets per application for easy and complete replacement.
-Can be used in combination with all other ProX or OEM clutch components.
-Reliable performance because of complete replacement.
-The best replacement and the choice for every professional rider.
Fits all RR/RS/RR-S models 2010-2017 except 2014 350RR Factory.
ProX Beta RR|RS (10-17) Clutch Friction Disc Set
Produced by ProX of the Netherlands