---
070-0643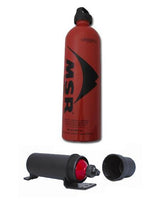 Fuel bottle
Extend your riding range with this heavy-duty fuel canister! Air-tight seal allows fuel to be stored longer by preventing air from entering and degrading fuel. Made from single-piece, impact-extruded aluminum to prevent leaks and cracks. Bolstered shoulder and base to resist bulging when pressurized. 887ml or 30 ounce capacity.
Bottle mount (in the bottom of the picture, add below)
This storage tube attaches directly to the outside of any flat-sided sidecases and can be used to carry our MSR 30oz Fuel Bottle or any other gear that can fit inside of it. It has an internal diameter of 3.12" and an internal height of 11.5". For a mounting alternative, please see the Weiser Stainless Steel Universal Bottle/Container Holder.
Mounting Kit Notes: The mounting kit includes the proper size Drill Bit, Hex Head Screws, Sealing Washers and Large Exterior Washers.
MSR Fuel Bottle