---
16020833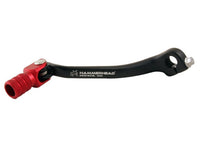 Looking for a shorter shift lever for your Beta? This is a CRF250R lever that brings the tip back just far enough to make it easier to get to (approximately 15mm), and even improves the shifting a bit by shortening the throw according to our in-house tester!
-Forged using 6061 aluminum
-Precision machined 6061 billet aluminum shift tip
-Stainless steel spring
-UV protected anodizing of colors prevents fading
Fits all 2010-on RR/RS/RR-S (except 125RR-S and 2020-on 4-stroke) as well as XTrainer.
Moose Racing Beta Short Shift Lever
Produced by Hammerhead for Moose Racing