---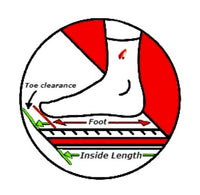 Sizing is easy, order your regular sneaker size, but go up one size if you have big wide feet.
Or, you can follow this sizing method...
Place your heel against a wall and measure out to the end of your big toe.
The boot's inside length (listed below) should be 5/8-3/4" longer than your feet.
This measurement gives you the correct toe clearance for safety and comfort.
MEN'S SIZING
-38eu 4 mens 10.04" inside length
-39eu 5 mens 10.23" inside length 
-40eu 6 mens 10.43" inside length 
-41eu 7 mens 10.63" inside length
-42eu 8 mens 11.02" inside length 
-43eu 9 mens 11.22" inside length
-44eu 10 mens 11.42" inside length
-45eu 11 mens 11.81" inside length
-46eu 12 mens 12.00" inside length 
-47eu 13 mens 12.20" inside length 
-48eu 14 mens 12.40" inside length 
-49eu 15 mens 12.60" inside length 
-50eu 16 mens 12.80" inside length
WOMEN'S SIZING
-35eu 4 womens 9.45" inside length 
-36eu 5 womens 9.64" inside length 
-37eu 6 womens 9.84" inside length 
-38eu 7 womens 10.04" inside length 
-39eu 8 womens 10.23" inside length 
-40eu 9 womens 10.43" inside length 
-41eu 10 womens 10.63" inside length
-42eu 11 womens 11.02" inside length
-43eu 12 womens 11.24" inside length