---
22-1-195P + V2-TC-904 + 22-1-901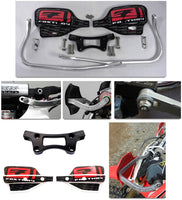 Fastway patented the ultimate hand guard mount, and it remains the strongest and best mount on the market today. Rock solid, ruggedly handsome and made on our machines using USA 6061 aluminum!
This is our one piece ultra strong center clamp, with integrated hand guard mount tabs, that gives you a rigid and clean mounting system. These Version 2 Handguards replace the tops of the handlebar clamps with a single plate for added strength.
All our FIT Handguards mount to our Patented center clamps. This means there is no clutter on your bars– and makes it simple to hook your tie downs or soft ties to your bars when loading your bike for transport. Our Patented mount also prevents the hand guard from rotating up or down in the event of a crash. The result? Rock solid protection!
WHY THE NEW BEND?
You asked, we responded. We added more room in the cockpit, a deeper safer U bend, rounded the impact face for better narrow-tree deflection, and added a deeper drop down for better cable clearance. Fastway FIT System handguards are the strongest and best in the industry. Made here at Pro Moto Billet Headquarters in Idaho.
DO YOU LIKE FLEXX BARS?
So do we. Our Patented mounting maintains the flex in your stock bars, and works great with Flexx bars. We should know - we run them!
HERE'S WHAT COMES WITH OUR FIT SYSTEM
-Left and right arm bars with our new bend and black/red shields or white/red shields (choose below)
-Fastway threaded inserts with tap and all mounting hardware
Note: All Fastway FIT Systems replace the tops of the handlebar clamps and include arm bars, shields and mounting hardware. Some aftermarket triple clamp and handlebar clamp sets may change these and therefore not be compatible.
Note: On RS models the ignition switch bracket will need to be bent down for clearance. Beta 4-stroke Clutch Line recommended for easier fitment on machines with "straight" brake hose. These also fit the X-Trainer and many Husaberg, Husqvarna, and KTM machines with a 90mm x 40mm handlebar bolt spacing.
Note: Does not fit 2020-on RR-S models.
Fastway Beta FIT Version 2 Handguard Kit
Produced by Pro Moto Billet/Fastway of USA