---
BT2-FD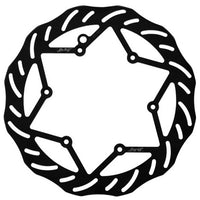 The Dirt Tricks Beta front disk brake rotor is the ultimate combination of durability, wear resistance and stopping power. Our rotors are incredibly strong and will resist bending unlike anything else on the market today. They are Black Zinc plated to prevent rusting. These rotors have been developed and tested for nearly one year by engineers with the assistance and test riding/racing of Shane.
-Every rotor includes a 1 YEAR WEAR WARRANTY! Like our Dirt Tricks Sprockets, if you want the toughest race products, choose what professionals race
-2-3 times higher tensile strength than OEM rotors, resulting in much higher resistance to bending and wear
-Made of heat treated alloy steel, providing higher stopping friction, therefore 25% less braking effort
-Three times the cooling rate of stainless steel rotors. If they cool three times faster they run cooler all the time
* Magnet hole provided in most front disks. Location of each suggested by our professional racers. This location may or may not help you depending on your current set up and sensor location. Rotors plated in black Zinc which must be burned off prior to serious use. This is performed by dragging your brakes until no black is visible at pad contact location.
All of our products are proudly made in the USA!
Fits 2013-on RR and 2014-on RS/RR-S models as well as XTrainer.
Dirt Tricks Beta Front Brake Rotor
Produced by Dirt Tricks of USA