---
ESK-494-B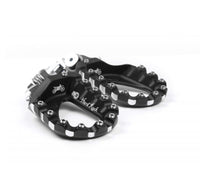 Made in forged 7075T6 aluminum, these stunning new footrests are adustable with the provided aluminum spacers. You can either have them forward, middle, or backward. Forward for dry steep sections. Backward for slippery sections, and middle if you're not sure! Open design so they always stay clean of mud. Complete kit with bolts, aluminum spacers, and stainless springs. Light as titanium but never break!
Wider for better stability. Its U-shaped design avoids snagging. Their open design keep the footrests mud-free!
New design:
-Ergonomic
-Stainless steel grip teeth
-Satin finish
-Adjustable advanced pins
3 Adjustable range positions:
-Up & forwards -2,5mm
-Midrange 0 mm
-Low & backwards +2.5mm
Kit includes stainless steel springs, stainless steel pins, auto-locking nuts, aluminium washers
Fits 2013-2019 RR, RS, full-size RR-S, and all years XTrainer. Looking for something from S3 Parts that we don't have listed, or a different color? Please write tom@sierrabmw.com and we'll make it happen!
S3 Beta RR|RS|RR-S (13-19), XTrainer Hard Rock Aluminum Footpegs Black
Produced by S3 Parts of Spain, imported and distributed by Sierra BMW & Beta