---
PWR-BETARR-250-R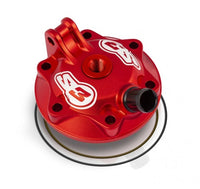 Increases compression, allowing one more gear to be used, improving power delivery and engine torque. Its design manages to lower the temperature by eliminating the typical hot spots of the original cylinder heads. Ideal for aggressive riding.
All kits include: cylinder head cover, insert and O-rings.
Looking for something from S3 Parts that we don't have listed, or a different color? Please write tom@sierrabmw.com and we'll make it happen! Fits 2013-on 250RR.
S3 Beta 250RR (13-on) Power Cylinder Head Kit
Produced by S3 Parts of Spain, imported and distributed by Sierra BMW & Beta