---
31-890S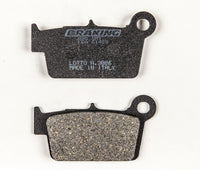 The combination of brake pads and disks make the FRICTION SYSTEM that represent the core of the brake performance. BRAKING® offers a vast choice of different pad compounds that in combination with the range of disks can satisfy any riders needs. Each product within the BRAKING® pads range is ranked over the key parameters to make client choice as simple as possible. Performance in dry, wet, cold and hot conditions, durability and fading are the key characteristics that will easily lead your choice.
WHY BRAKING? Only BRAKING® offers a range of more than 10 different materials from the best Japanese and European compound specialists, ranging from full sintered to semi-metallic technologies.
SM1 DESCRIPTION
Entry level semi-metallic compound. Smooth, powerful, quiet and non-grabbing performance. Do not use for racing.
SM1 TECHNICAL FEATURES AND BENEFITS
Pad semi-mettalic
Good performance at low temperature
Competitive price
Fits 2007-on RR, RS, full-size RR-S models, and X-Trainer.
Braking Beta SM1 Rear Brake Pads
Produced by Braking of Italy