---
DFPB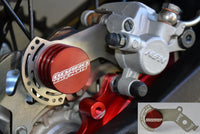 For those who brake a lot with the rear, this heat sink lowers the operating temperatures, preserving the life of the disc and the caliper itself.

Suitable for models from 2006 to 2019, the heat sink serves to reduce the temperature of brake pads and oil, thus improving braking stability.

The heatsink is constructed from a steel plate that guarantees maximum resistance and from the CNC machined aluminum body that guarantees heat dissipation.
Boano Beta Rear Brake Heat Sink
Produced by Boano Race Parts of Italy