---
KVEM4T-10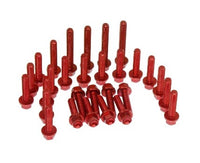 Aluminum red screw kit for engine. In addition to making your bike more aesthetically pleasing there is also a weight savings. With this kit and the kit frame/plastic the weight saving is 200 grams.
The kit includes:
1 x 6x30 Clutch crankcase screw (where it attaches the pedal spring)
4 x 6x40 Water pump cover screw
24 x 6x25 Ignition cover, clutch cover

Looking for anything at all for your Beta that isn't listed? Please write tom@sierrabmw.com and I'll get it added for you!
Fits 2010-2019 full-size 4-stroke.
Boano Beta 4-stroke (10-19) Red Aluminum Engine Bolt Kit
Produced by Boano Race Parts of Italy