---
AB-10516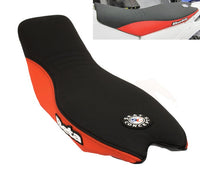 -Complete Seat Assembly!
-Wider, softer, stock-height seat to help keep comfortable on that long ride, as well as match up to the big tank in the front.
-The added width and softer foam density will help keep the seat from being an item to stop you from going on that ride or enjoying the bike!
-Red/Black cover with Beta logo just like OEM
-Made in USA!
Fits stock seat on 2013-2019 full-size RR/RS/RR-S except 2013 RS, and 2015-2022 XTrainer, dimensional weight listed.
Beta RR|RS|RR-S (13-19), XTrainer (15-22) Wide Complete Seat
Beta Original Parts by Seat Concepts