---
AB-13010-48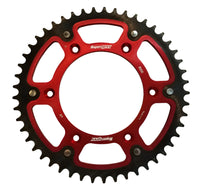 Supersprox-stealth will last 3 times longer than an aluminum sprocket and is between 10-50% lighter than a steel sprocket (depending on model and tooth number). We guarantee that our sprockets will outlast, outperform and outshine the competition.
Supersprox-stealth was developed for riding in extreme conditions, where aluminum sprockets can't handle the torque delivered through the chain drive system. Supersprox engineers conceived and developed the combination of the two materials in 2000. Supersprox have earned 15 world titles since that time.
-Red aluminum inner with steel outer ring for long life
-Choose 48,49,50,52 teeth below
-Fits 2005-2012 RR, 2005-2013 RS models.
Beta Supersprox Rear Sprocket (Early)
Produced for Beta by Supersprox of USA