---
531499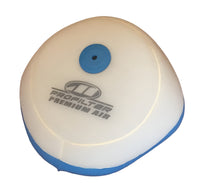 PRO FILTER Premium Air Filters are made of chemical resistant, high quality polyester based foam. Dual-stage design allows for superior filtration by eliminating the passage of fine dirt and dust, while helping to prevent air flow blockage. Special reticulation process offers unsurpassed air flow and filtration. Industrial strength, resin bonded seams increase the integrity of the filters wash after wash. Packaged individually in a re-sealable bag.
-Chemical resistant, polyester based foam
-Dual stage, reticulated foam
-High strength industrial seams
-Reusable
-Rubber grommet
F
its 2013-2019 RR, 2014-2019 RS/full-size RR-S, and 2015-2022 XTrainer.
Beta RR|RS|RR-S (13-19), XTrainer (15-22) Pro-Filter Air Filter
Produced for Beta by Maxima