---
AB-10204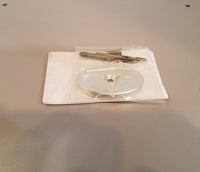 The kickstand pad is back and better than ever! Prevents kickstand from sinking and has a recessed Beta logo to leave an impression wherever you stop!
-Oversized Kick Stand Pad.
-Made from Billet Aluminum.
-Helps to prevent sidestand from sinking into the ground.
Fits 2013-2019 RR, RS, RR-S, and all years XTrainer.
Looking for anything at all for your Beta that isn't listed? Please write tom@sierrabmw.com and I'll get it added for you!
Beta (13-19) Oversize Kickstand Pad
Beta Original Parts