---
AB-11293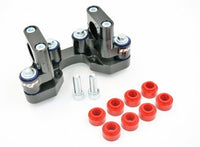 The BRP Rubber Mounted SUB "Scotts Under Bar" Adapter uses (8) Poly-Urethane bushings to isolate vibration and reduce rider fatigue by softening the harsh spike of hitting square edge rocks and obstacles. Designed to mount a Scotts stabilizer below the handlebar using your OEM cast or billet triple clamp. The BRP Rubber Mounted SUB adapter mounts in position 3, which is the most common and popular position. SUB Mounting a stabilizer offers several benefits over a conventional "above bar" setup and is becoming a very popular setup for GP's, motocross, off road, dual sport applications and riders of taller stature.
-Offers an approximately 1" taller bar position.
-Lower Bend Bars can be used to compensate for additional height.
-SUB Mounting reduces the risk of bodily injury.
-Stabilizer is tucked away and protected from potential damage from a crash.
Fits stock upper triple clamp on all 2013-on 300RR, 250RR, and X-Trainer.
Beta 300RR|250RR|XTrainer BRP Rubber-Mounted Scotts Stabilizer Mount
Produced by BRP for Beta