---
AB-22170-1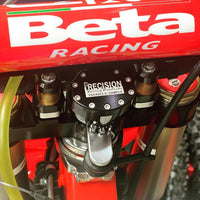 Precision Racing Products is the top of the line option when it comes to Stabilizers. This is NHHA national Champion @joewasson45 and local @zaneroberts choice for the high speed terrains he tackles, and it can be yours as well!!
-Precision Stabilizer Kit.
-High speed stability, greatly reduces high speed wobbles, as well as reduced wheel chatter going into corners.
-Has 20 numbered low speed positions with clicks and stops at both ends.
-Adjustable in a second with a bar pad on.
-OEM Height (doesn't affect bar height).
Fits 2018-on RR/RR-S 2 stroke & 4 Stroke (except 125 RR-S).
Please choose which position your handlebar mount is located in the triple clamp and which direction you have the lower handlebar clamp installed (toward or away from the rider) above. Bar position 3 is center hole, clamps rotated back. Position 4 is center hole, clamps rotated forward. Position 5 is forward hole, clamps rotated back. Fits 2018-on RR 2-strokes and X-Trainer. 
Install instructions can be found here: https://betausa.com/accessory-instructions/
Beta (18-) Precision Racing Steering Stabilizer Kit
Beta Original Parts by Precision Racing of USA