---
AB-10517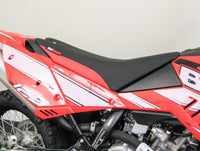 Beta is pleased to announce the new 3/4" low seat kit by Seat Concepts.
Seat Concepts seats are constructed using a foam material that is a much higher quality than OEM seat foam. Our proprietary formula provides a more plush and active ride, while still offering the necessary amount of support. These features combine to offer a custom seat feel, and provide greater enjoyment and increased range in a long race, or Dual-Sport ride!
Kit includes cover and foam.
Beta 125RR-S Low Seat Foam & Cover Kit
Produced for Beta by Seat Concepts of USA