---
213001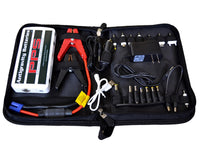 Sale
World's smallest Jump Starter and Back-up Battery!
Beware of imitations on eBay, they are not the real Antigravity product!
We have all experienced a dead battery in our vehicle and the dread of not being able to start it, or that cell phone battery that went dead during that important call… or perhaps your GPS went dead on a long ride or hike. The MICRO-START is a pocket size jump-starter and back-up battery supply for all your electronic devices and ends those problems forever! Whether you are riding, driving, camping or hiking the Micro-Start is one of the most important items you will ever purchase. It offers safety and security in this world where we rely so heavily on our electronic devices and vehicles. The kicker is IT FITS in your pocket, tankbag, almost anywhere!
The Micro-Start PPS (Personal Power Supply) is the world's smallest Jump Starter and Personal Power Supply (only 6" x 2-7/8" x 1"). The built-in Extreme Power Lithium battery can hold a charge for up to a year and not only will it jump-start any car, truck, motorcycle or powersports vehicle mulitple times, but also provides hours of backup power to all of your electronic devices. Weighing less than a pound (14 oz.) and small enough to fit in your pocket, you can take it with you anywhere and remain confident that you will be able to start your vehicle, make that important call, or power your child's PSP on that long trip in the car. It even has a built in flashlight with S.O.S. patterns built in! Whatever you do, don't get stuck without back up power again!
THE MICRO-START—- WHAT IS IT AND WHAT CAN IT DO?
-It's the smallest, lightest Jump Starter/Portable Power Supply available:——- only 6" x 2-7/8" x 1", 14 oz.
-It can Jump start Cars, Trucks, Motorcycles, ATVs, UTVs, Snowmobiles and Watercraft— and YES it will jump start your V8 truck EASILY and many times in a row!
-It Charges and Powers all electronic devices such as— Laptops, all Cell Phones, iPads, iPhones, Kindles, PSPs, PDAs, GPS, MP3s, Bluetooth Devices, Cameras and more.
-It has 3 on-board Power Ports: a 19v for laptops,———- a 12v standard output for all 12v Accessories,—– - and a USB 5v output for charging or powering ANY 5v USB charged device.
-It has a HI-POWER LED flashlight with 2 built-in flash patterns including an S.O.S. flashing beacon pattern.
-It has a lighted battery capacity indicator - press a button to see the battery capacity left in the Micro-Start.
-It has built-in over-charge and over-discharge protections for long battery life.
-It has an automatic power-off when not in use.
The Micro-Start XP-1 model comes with everything you need to in a convenient carrying case:
-Sim-Leather Carry Case
-Micro-Start XP-1 Unit
-Detachable Mini Jumper Clamps
-1 Black Universal Cable with 8-different detachable tips to fit all the different brands of laptop charging ports (Apple, Acer, Dell, HP, Asus, and more)
-1 black universal Cable for all 12v accessories such as mobile DVD players, or other 12V accessories
-1 White Universal USB Cable with 8 different detachable tips to fit all 5V USB chargeable electronics such as all Cell Phones, iPads, iReaders (Kindles), PSPs, GPS, tablet computers, and anything else using the 5V USB standard
-1 Home Charger
-1 Mobile Charger for plugging into cigarette lighter socket
SPECS
-200 Amp- 400 Peak Amp Jump Starting ability
-14 ounces
-6″ long x 2.8″ wide x 1″tall
Antigravity Micro-Start XP-1 Power Supply
Produced by Antigravity of USA