---
36010064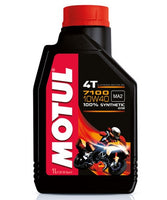 Sale
100% Synthetic with ester 4-Stroke engine oil. Formulated to meet the newest in motorcycle manufacturer specifications in terms of JASO and API. Designed with the perfect synergy for less oil consumption, reduced engine internal friction and extreme pressure performance, for more power.
-JASO MA2 ensure optimum clutch performance at start-up, acceleration and full speed.
-API SN provide improved high temperature deposit protection for more stringent sludge control.
Motul 7100 Off Road 10W40 Oil
Produced by Motul of France