---
104-190112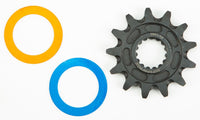 Made from SCM-435 case hardened steel for extended life. The refined core structure ensures that the teeth will not break when worn, like cheap C-45 sprockets.  The lightest and strongest sprockets on the market.
-CNC machining provides a perfect fit and smooth chain rotation
-Fully recessed to reduce rotational mass
-Gas impregnated carburized teeth provide durability and reduce chain drag
-Grooved to prevent dirt build up under the chain and prolong chain life
Choose 12-15 teeth above, fits all full-size RR/RS/RR-S models and XTrainer.
Supersprox Beta Front Sprocket
Produced by Supersprox of USA