---
22120751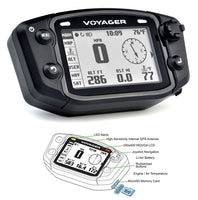 The Voyager GPS allows you to create, log and ride trails, and when you are finished, share them with friends. You can also monitor the engine temperature, ambient temperature, distance, voltage, compass, elevation, and engine RPM. Includes generic mounting kit and hardware.
-GPS Speed, Distance, Compass, Altitude, Temperature, Maps
-View, Organize, Edit and Share Entire Trail Systems in 3D
-Designed Specifically to Meet the Needs of Off-Road Riders
-240x400 WQVGA LCD - Readable in Intense Sunlight
-Engine Performance linked to GPS Data
-Crash Resistant, Off-Road Design
-Upload Routes from any GPS
-Customizable User Screens
-Model-Specific Integration
-Accurate Tracks, Even in the Toughest Terrain
-Runs on Vehicle Power (or internal battery)
-Back-lit for Operation in the Dark
Generic kit that might require moving the headlight/number plate forward but does work with the stock speedo sensor connection.
Trail Tech Beta Voyager GPS Kit
Produced by Trail Tech of USA