---
6529-01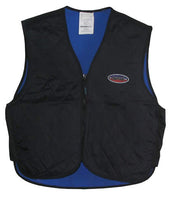 This simple and effective technology works by combining water with our HyperKewl™ Fabric to create garments that gradually release water through evaporation to keep you cool, but comfortable.
Typical applications include industrial safety, construction, emergency services, military, outdoor recreation, athletics, motorcycling and equine.
-Simple V-neck w/ zipper closure; work for a wide range of people and uses
-Comfortable, quilted nylon outer w/polymer embedded fabric inner, water-repellent nylon liner, and black cotton-poly elastic trim
-Grey & Black
-S, M, L, XL, 2XL, 3XL
-Cost-effective, extended relief from heat stress
-Lightweight, durable, reusable and washable; non-toxic
-Polymer Embedded Fabric (PEF6519) sewn into garment lining
-Easy to Use
1)Soak garment in cool water for 1-3 minutes
2)Gently squeeze out excess water
3)Wear; repeat steps as needed
4)Hang to dry
5)Wash in mild, soapy water (as needed)
Keeping you confortable at work, rest and play!
Produced by Techniche International of USA