---
13-0241-20-1000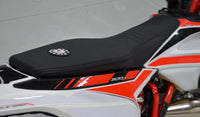 Seat Concepts seats are constructed using a foam material that is much higher quality than OEM seat foam. Our proprietary formula provides a more plush and active ride, while still offering the necessary amount of support. Our unique comfort shape maintains a similar contour to stock at the front of the seat so the rider's legs are not spread farther apart, but tapers out towards the midpoint to distribute rider weight over a greater area.
These features combine to offer a custom seat feel, and provide greater enjoyment and increased range on a long commute, or Dual-Sport ride!
Kit includes cover and foam.
One year product defect warranty to the original purchaser. This does not cover abuse or impact (crash) damage.
Fits 2020-on RR, full-size RR-S, and 2023-on XTrainer. Dimensional weight listed. Carbon sides/gripper top, other colors/options available, please write tom@sierrabmw.com if you're interested. Requires 15-30 day lead time as seats are made to order.
Seat Concepts

Beta RR|RR-S (20-), XTrainer (23-)

Wide Seat Foam & Cover Kit
Produced by Seat Concepts of USA