---
3166-000-120-320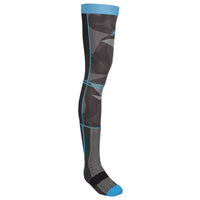 KLIM's Aggressor Cool -1.0 Knee Brace Sock provides a level of cooling and comfort never before seen in the power sports industry. Coolcore's™ patented chemical-free cooling, moisture-wicking, moisture transportation and cool evaporation fabrics are exactly what you need to keep cool and maximize performance. Unlike other cooling and sweat-wicking fabrics that rely on chemicals or polymer crystal treatments that degrade over time, KLIM's Aggressor Cool fabrics will deliver consistent cooling and wicking performance throughout the lifetime of the garment. When high performance athletes demand high performance cooling and comfort, they choose the KLIM Aggressor Cool -1.0 Knee Brace Sock.
-MID-THIGH HEIGHT KNEE BRACE SOCK
-KLIM AGGRESSOR COOL FABRIC FEATURING COOLCORE™
-GRIP CALF & GRIP SILICON THIGH ELASTIC TO KEEP SOCK UP
-COMBINATION OF TECHNICAL VENTING AND DENSITY FOR PADDING
-WICKS MOISTURE AWAY FROM SKIN
-SCENT CONTROL/ANTI-MICROBIAL
-LIGHT KNIT VENTING ON FRONT OF FOOT
-EXTRA PADDING UNDER FOOT AND HEEL
-COMPRESSION KNIT AROUND ARCH
Small=4-6, Medium=7-10, Large=11-14 - fits about a size large.
Klim Aggressor Cool -1.0 Knee Brace Sock
Produced by Klim of USA