---
03130453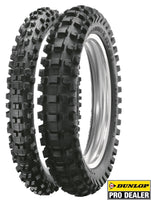 Sale
Dunlop's vast championship experience and development expertise has been infused into the next generation of off-road tires: the all-new Geomax® AT81™ and AT81™ RC (Reinforced Construction). These new Geomax tires offer more all-around performance plus higher levels of ruggedness for off-road racing and riding.
-AT81 rear tread block shape and distribution plus DIRTuitive Grip Design (DGD) knobs help the tire penetrate down through the surface dirt for extra traction across a broad range of off-road applications.
-Newly formulated high-wear-resistant rear tire compound offers enhanced chipping, tearing and wear appearance.
-Geomax AT81 RC (Reinforced Construction) rear tire carcass features four nylon plies.
-Lateral grooves on the shoulder knobs provide additional biting edges and also allow the knobs to be more flexible.
-Rear center blocks are arranged in-line to provide a larger contact patch for maximum traction.
-Dunlop's "plush pad" recess design between tread blocks enhances compliance for bump absorption and ride comfort.
Dimensional weight listed
Dunlop Geomax AT81RC 110/100-18 Tire
Produced by Dunlop of USA